Invitation to Helsinki week in Singapore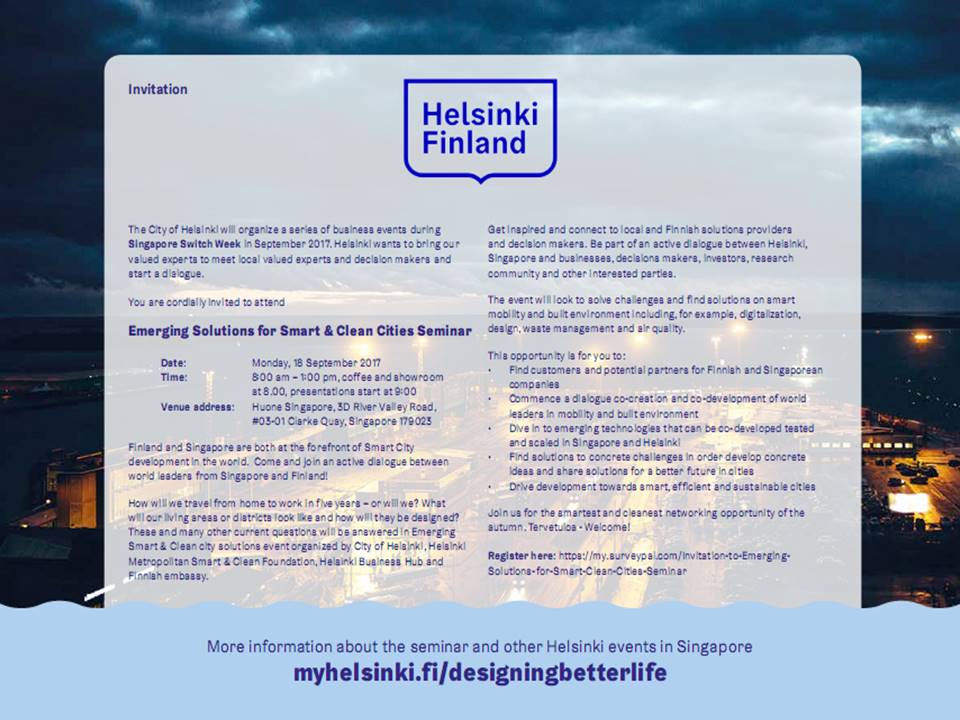 We cordially invite you to come and discuss about the co-operation possibilities in Singapore with us.
Lifa Air offers a wide range of awarded high quality air purification and monitoring solutions,
starting from smart standalone units to vehicle purifiers and building level full solutions with
integrated cleaner units and real-time reporting of the indoor air quality.
Please let us know which would be convenient time for you to meet us.
Here's the events for the week and you can suggest meeting also on Wednesday 20th.
Emerging Smart & Clean city solutions
Huone Event hotel address: 3D River Valley Road #03-01
Exhibition starts Monday 18th
of September at 9 am
Slush Singapore
Marina Bay Sands Expo & Convention Centre on 19th of September
Event info: http://singapore.slush.org/ Ticketing: http://singapore.slush.org/tickets/
Helsinki is presented at Smart & Clean workshop where's possibility to meet Lifa Air
Designing Future Education 2017
Gems School, campus address: 2 Yishun Street 42 Singapore 768039
Information about location http://www.gwa.edu.sg/Location
Starting from 10.00 21th of September
https://www.sf100.sg/program
https://www.eventbrite.sg/e/designing-future-education-2017-sf100-registration-35778019018
For further information please contact:
Eppu Makipaa +852 6816 2544 eppu.makipaa@lifa-air.com
Benjamin Shum +852 6621 0301 benjamin.shum@lifa-air.com