Invitation to 2015 MIECF - Lifa Air Limited 麗風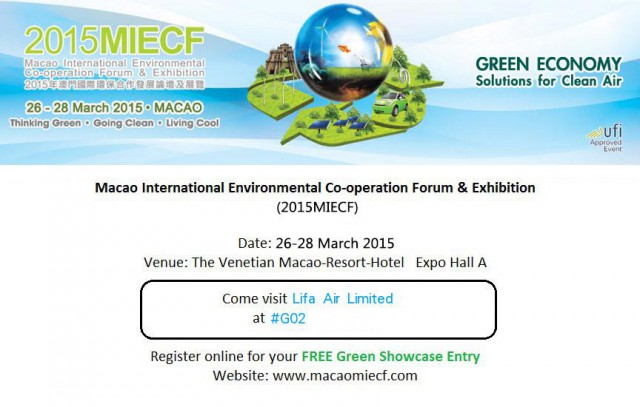 It gives a great pleasure to invite you to the 2015 Macao International Environmental Co-operation Forum & Exhibition (MIECF). Initiated and actively led by the Government of the Macao Special Administrative Region (Macao SAR), MIECF is strategically positioned to nurture business, technology and information exchange and co-operation between the Pan-Pearl River Delta Region in Southern China and the international markets.
If you are unable to come and join the Exhibition, we can arrange a private meeting with you to conduct a site visit and discuss what are the suitable solutions for Indoor Air Quality..
Thank you and we look forward to seeing you at the venue!
Date : 26 – 28 March 2015
Venue : The Venetian Macao – Resort – Hotel Expo Hall A
Booth no.: European Pavilion, Booth G02
Pre-registration Link :
http://www.macaomiecf.com/miecf2015/en/green-showcase/visitor-pre-registration